Description
Small constellation to the south of Cygnus.

Near the border with Sagitta, a little above the 20 degrees of declination, there is a small group of stars, of sixth and seventh magnitude, disposed in a very curious manner: there is a straight line of six stars, from the middle of which four other stars branch off so that they form a hook. The whole composition draws with notable likelihood a small dress-hanger.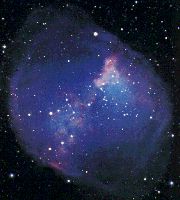 A little far there is M27, a big planetary nebula nicknamed Dumbbell because of its characteristic shape. It is visible with small instruments too, but only as a weak luminosity: to see it better you need big telescopes.